Building A Better Pearland
What is Pearland Prosperity?
In 2019, the Pearland Economic Development Corporation (PEDC), along with local partners in government, education, healthcare, and business, embarked upon a collaborative community and economic development strategic planning process that will make the community a more prosperous, successful, and vibrant place to live, work, and do business. This plan builds upon the Pearland 20/20 strategy, which the community developed through a similar process in 2013 and helped catalyze numerous community improvements.
At the center of the Pearland Prosperity framework are two Community Goals that broadly identify the desired outcomes of Pearland's holistic economic development effort. These goals are:
Economic growth and diversification: Provide opportunities for residents to prosper and enhance Pearland's fiscal sustainability through a holistic approach to economic development.
A community of choice in Greater Houston: Ensure Pearland's quality of life and quality of place continue to attract and retain diverse individuals and families.
These goals are being pursued through a number of strategic initiatives grouped into seven, high-level Focus Areas. Each initiative corresponds to an action, program, effort, or investment that can help move Pearland toward its desired future. The Focus Areas provide organizational clarity and readily communicate to a wide variety of audiences the issues that Pearland is seeking to address through collective action.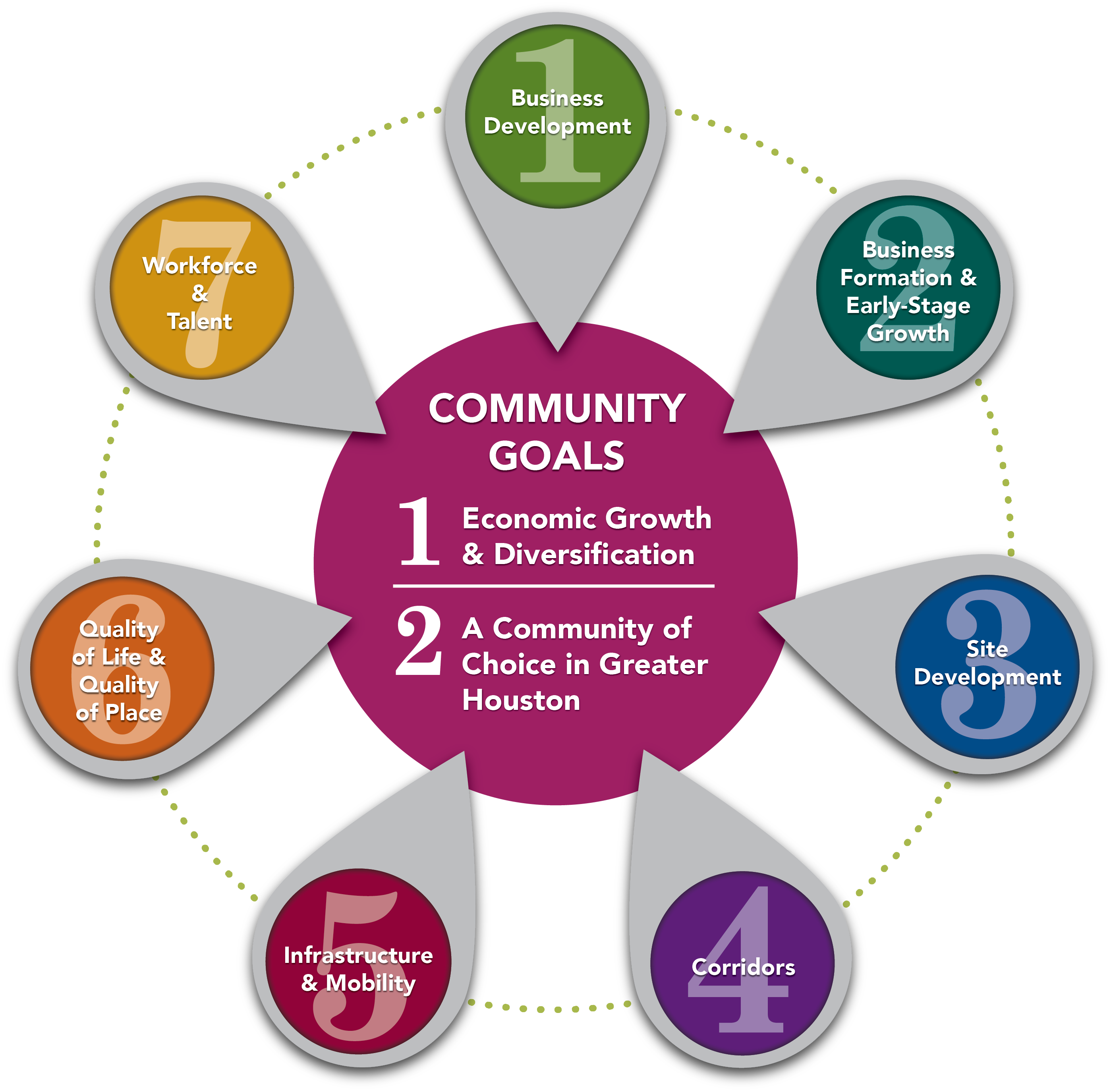 The community must build upon the location and expansion success of recent years and pursue the growth of primary jobs within its borders through a holistic approach to economic development.
By ensuring that Pearland has an optimal business climate and support services to aid business formation and growth, Pearland can position itself as an attractive destination for entrepreneurs and new and growing firms in the Greater Houston region.
Pearland should take a more proactive approach to increasing the supply of development-ready sites in order to ensure the community's competitiveness and "unlock" sites that may not be activated in the near term through market forces alone.
Pearland must invest in its key corridors to ensure that they are efficient, aesthetically pleasing, and well maintained so that they are attractive destinations for jobs and investment.
This Focus Area recommends advancing high-priority road and highway projects and advocating for and developing additional resources needed to fund them. Pearland should also seek to advance options for expanding transit connectivity to major employment centers.
The community should advance mixed-use developments and catalytic quality of place amenities that can help Pearland maintain its status as a community of choice within the Greater Houston region.
Public, private, and nonprofit partners in Pearland must work together to further enhance the community's workforce, and by extension, its competitiveness for jobs and investment.